The Kingdom of FREEDOM
Welcome
Welcome all to the Kingdom Site, of the Kingdom of Freedom. Freedom stands for Fair play, Proffesional Play, Victory and Most importantly, Friendship. This site has some important member Services and will also give Information about our wonderfull Kingdom. We hope you enjoy your stay at our Site.
Recent Updates
---
Beta Version ONLINE -----------------03-11-2007------------------UPDATE
We are happy to anounce the start of our Kingdom Site, the Site has just been put online for the very first time. It is still in the beta version, but it will soon grow bigger and bigger. this site was made possible by all the recent succesfull events, which occured inside the kingdom of Freedom.
We hope the site will grow bigger soon, and give you all the information you need. to celebrate the success of our kingdom. We are going to have a Guestbook online for everyone to leave their comments. When leaving a comment no bad language please.
---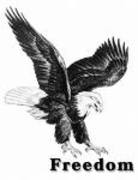 Requests
Hello all, you can all help us to improve our Kingdom and our site by doing the following things.
- We just got our guestbook up, so i'd wish everyone to sign it please
- if you have any good idea's please contact us